DIY F/Stop Timer
This webpage shows how you can build an f/stop timer for B&W analogue printing. If you just want to buy one, both RHD and DA (sold out?) may sell you a very nice working and well-supported unit. I will not sell you a timer, but I usually have circuit boards for sale for those who want to assemble their own. This is open hardware and software so you can build one using the design files provided here; you don't need to buy anything from me.
If you build this, please contact me (email address is in the headers of all the source files) as I'd like to have some idea of how many of these are out there. Of course if you have suggestions or bug reports, please send them in too.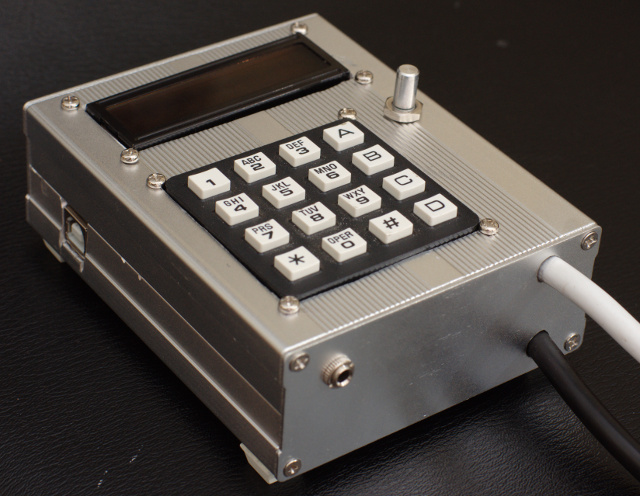 WTF is an F/Stop Timer?
This is an enlarger timer. It controls (through duration of exposure) how much light hits a piece of black and white photographic paper, thereby controlling how dark it gets. By expressing exposures in a log scale (stops, being log base 2), we can perform a lot of print manipulations such as dodging and burning, changing size, shifting the image by a fixed overall tone change, etc, just by performing simple addition/subtraction arithmetic. And of course the timer does all the arithmetic for you. It can also be used to make colour prints, but it will do no colour computations for you.
While you can achieve the same ends with a linear timer, it's a lot more taxing, both in the number crunching you have to do in your head as well as needing to adjust the times for all exposures in a print when making a global adjustment, e.g. for print magnification. All of that is taken care of by an f/stop timer, including the ability to program complex (up to 8 steps) sequences of dodge/burn actions into the timer.
The term "f/stop timer" was coined by Gene Nocon, who is widely credited with inventing this approach. Nocon sold an f/stop timer and more importantly, called it an f/stop timer - even though the process has NOTHING to do with apertures except the logarithmic spacing of the values used.
Here's a brief article explaining what f/stop timing is all about and here's a primer from RHD (the manufacturer of another of these timers).
Features
What it does:
0.01 stop resolution, exposures of 1ms to 1000s
Drydown correction with 0.01 stop resolution
Direct numeric entry of decimal EV
Rotary encoder (knob) can be used to adjust EV
Textual prompts entered by user to describe each exposure
Up to 8 exposures per program, save 7 programs in internal EEPROM
Generate test-strips and test-patches in equi-EV increments
Pause, resume and skip exposures
Turn enlarger on/off manually for focusing
16x2 red LCD, 4x4 keypad, rotary encoder and footswitch for user interaction
SMS-style multi-keypress method of text entry
Adjustable LCD backlight brightness
Transfer stored programs to/from a PC
New in Hardware (PCB) Rev.B (March 2014):
Connector to support TSL230 and TSL235R light sensors
New in Software Version 0.4 (June 2012):
Pushbutton / footswitch now supported for exposure start/stop
Backlight dimmer goes to zero now for use in colour darkrooms
Serial communications implemented in order to save/load programs... however there is not yet a matching PC software to talk to the timer
Using the Focus button no longer resets the current program, so you can do a focus-exposure in the middle of a program. Split-grade printing on a colour enlarger with backlit wheels (ike mine!) was a real hassle prior to this fix.
Rotary encoder direction can be reversed
Code updated to work under Arduino 1.0 instead of 0022.
Bugfix wrt saving to 7th slot (anything you saved under v0.3 in slot N will now appear in slot N+1; slot 1 will contain invalid settings)
New in Software Version 0.5 (April 2014):
Support for PCB revision B (different pinout)
Simpler support for different rotary encoders (reversing direction, double-stepping, etc)
Simple support for reversing the keypad ribbon cable, which may make your wiring physically easier
Lamp warmup/switchon correction (addition of a constant time to every exposure)
Features "coming soon" (for values of soon that include I-hope-someone-else-sends-me-a-software-patch):
Software support for the light sensor (TSL235) in order to meter exposures
Host software to manage a library of print programs on a Windows/Linux/OSX PC and transfer them to/from the timer
The "not implemented" features have placeholders in the code and they may appear in the next few years. Missing features that are likely to stay missing for the foreseeable future are:
Multiple output channels for additive colour enlargers and split-grade automation, e.g. tone-preserving grade-changes
Support for more dodging than the base exposure, i.e. concurrent dodges / operator-is-an-octopus mode
Construction and Use
See also:
---